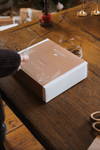 Gift box | Cedar & Lavender
Here is the gift box of the ephemeral collection of the holiday season; Cedar & Lavender! This collection, loved for many years now, is back and for the first time, we are offering you the possibility to buy a ready-to-give set to treat your loved ones (or even yourself!).

- Cedar & Lavender gel hand soap (250ml) — A moisturizing hand soap, that softens the hands and adds a light scent to them. This is the one you'll want. 
- Cedar & Lavender hand cream (100ml) — Our cream is very moisturizing but it absorbs super quickly into the skin. We succeeded with high-quality raw materials such as shea & soy butter. 
- Cedar & Lavender candle — Our soy was candle is a dream! Its soft fragrance will charm you on the spot, but what seals the deal is the wood wick that crinkles just like the fire ou a fireplace would. 
- Cedar & Lavender linen water (500ml) — Our linen water is made for all kinds of fabric. It refreshes but does not stain the materials. We use it everywhere but mostly on our pillow cases, bed sheets, curtains, carpets as well as any fabric seats. 
Cedar and lavender, this ephemeral holiday collection. With its scent of lemon, bergamot, mint, sandalwood, amber and lavender, we are transported to a winter setting, all white, woody and comforting.
Available for:
Pickup available at

St-Eustache
Let yourself be enchanted by