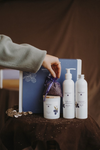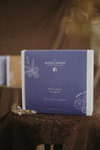 Gift box | Blackberry & Lavender
Here is the Blackberry & Lavender collection gift box! Carefully selected delicacies to arrive at this coffret that makes you feel so good.  
- Bubble bath (235ml) : 

A lot of foam with a subtle scent is what this bubble bath formula is all about. The lavender in it seals the deal; it's that perfect relaxing moment!

- Moisturizing skin lotion (235ml) : 

Our moisturizing skin lotion is exceptionally soft! It is easy to apply and absords quickly into the skin. In addition, it leaves a sweet fragrance on your skin.

- Candle : Our all-natural soy wax candle! Its soft fragrance will charm you on the spot, but what seals the deal is the wood wick that crinkles just like the fire of a fireplace would. A treat for the nose & the ears!
- Dried lavender flowers sachet (15g) : Same as when your grandmother stashed some in her pantry!

These bags have been a favorite for quite a long time, and with reason! They are practical to keep in your drawers, closets or storage bins to scent clothes

.
Available for:
Pickup available at

St-Eustache
Let yourself be enchanted by