Exclusive online & at Saint-Eustache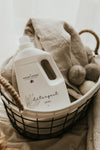 Laundry detergent - Aloe & Lavender
We are very proud of our laundry detergent formula, it's entirely green, eco-friendly & biodegradable.
It's phosphate-free, hypo-allergenic and is extra gentle on baby clothes or even lingerie. What's more, it leaves a light summer scent on everything it touches.
Compatible with conventional & HE washers.

It is the softest of our collections. A magnificent blend of rose, heliotrope, aloe vera and lavender submerges you into a very calm universe.
Available for:
Pickup available at

St-Eustache
Benefits
Green; biodegradable; phosphate-free; deep cleans; suits every type of laundry; made for HE and standard machines; adds a light fragrance.
Ingredients
EAU, SURFACTANT ANIONIQUE, SURFACTANT NON-IONIQUE, BICARBONATE DE SODIUM, COCOATE DE POTASSIUM, AGENT ANTI-REDÉPOSITION, LAVANDULA ANGUSTIFOLIA (LAVENDER) OIL, FRAGRANCE, SÉQUESTRANT, AGENT DE CONSERVATION
Your opinion
Let yourself be enchanted by