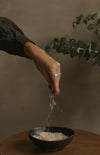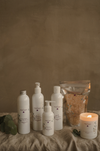 Pink salt diamonds - Eucalyptus wood & Lavender
A bath that soothes articular, arthrosis, and muscular pain; that eliminates toxins. That gorgeous lavender smell. Bath salts that come from Saskatchewan mines. Does it get any better than this? The therapeutic virtues of a bath in these salts are endless.
Eucalyptus wood & Lavender has a volatile start, thanks to citrus top notes. Lemon and lime give this fragrance flight. The journey continues with lavender, eucalyptus & geranium, whose rose-like fragrance softens the blend. The fragrance ends in beauty and finesse, with white musk, amber & oakmoss defining the blend.
Available for:
Pickup available at

St-Eustache
Benefits
Promotes relaxation, soothes the muscles, eliminates toxins, maintains the skin's pH level, therapeutic, lavender scent that provides soothing and relaxing moments.
Ingredients
sans parabène, huile minérale ou silicones. Sea salts/sels de mer, Lavandula Angustifolia oil/huile, Vitamine E
Your opinion
Let yourself be enchanted by