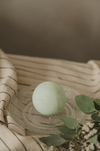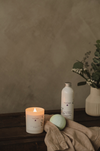 Bombshell - Eucalyptus wood & Lavender
The perfect bathtime set up, in one little bath bomb. A gorgeous fragrance and just the right amount of fizz for the ultimate relaxing moment.
Eucalyptus wood & Lavender has a volatile start, thanks to citrus top notes. Lemon and lime give this fragrance flight. The journey continues with lavender, eucalyptus & geranium, whose rose-like fragrance softens the blend. The fragrance ends in beauty and finesse, with white musk, amber & oakmoss defining the blend.
Available for:
Pickup available at

St-Eustache
Benefits
Promotes rest, moisturizes the skin and adds a light scent to it as well (and the bathroom).
Ingredients
SODIUM BICARBONATE, CITRIC ACID, HAMAMELIS VIRGINIANA (FLOWER) WATER, CHARMAEMELUM NOBILIS (FLOWER) WATER, OLEA EUROPAEA (OLIVE) FRUIT OIL, SHEA BUTTER (BUTYROSPERMUM PARKII) FRUIT, LAVANDULA OFFICINALIS, WATER, COLORANT, FRAGRANCE.
Your opinion
Let yourself be enchanted by