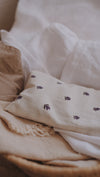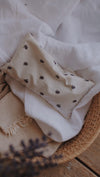 Deep relaxation is what this mask is for, all you have to do is lay it on your eyes for a restful nap or to soothe a headache. The powerful tiny lavender flowers inside will assure your sleep is restorative.
Our little tip: put it in the fridge between uses to help you get back to sleep during insomnia!
It can also be placed in the microwave for a few moments (at small intervals, you don't want to burn the lavender flowers!) to help relieve any cramps or intense pain quickly.
PLEASE NOTE: colors and designs of the fabric may vary depending on the availability of the fabric supplier.
Dimension: 19cm x 10cm
Available for:
Pickup available at

St-Eustache
*This product is out of stock on the online store, so your order will only be available for pickup at the Saint-Eustache boutique.
Benefits
A small accessory that promotes deep sleep, relaxation, it also soothes headaches and migraines.
Your opinion
Let yourself be enchanted by